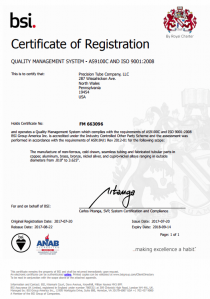 Quality Management System
Our Mission:
Precision Tube Company is committed to continual success in being the "Supplier of Choice" in the markets we serve through diligent pursuit of excellence in manufacturing of non-ferrous tubular products.
Precision Tube Policy on Quality:
Precision Tube is committed to continual improvement of its Quality Management System to assure Value, Service, and Reliability for its customers while complying with requirements by setting objectives and reviewing periodically.
Specification Flexibility:
Precision Tube Company has the diversity to produce to our customer's most demanding specifications. Commonly working to ASTM, AMS, MIL and WWT standards.